Canoeing on the Main and the Franconian Saale
Tips & tricks for canoeing in the Main-Spessart region
Gemünden is surrounded by waterways that invite you to go canoeing and boating. The Main, the city's largest river, can be reached from the hotel in just a few minutes' walk. The Franconian Saale, the north-eastern tributary of the Main, is particularly recommended for canoe tours, for which we also have some tips ready. Have fun with your canoe in the Main-Spessart.
Tour tip: From Lohr am Main to Neustadt am Main
Water hiking on the Main, along idyllic landscapes - what could be better for outdoor enthusiasts in summer? The route downstream is also suitable for less experienced canoeists.
Distance: approx. 17 river kilometres
Of course, there is a rental station directly on the Main River for your rental canoe. Only 10 minutes by car from Hotel Imhof, the canoe rental Main-Tauber is waiting for you in Lohr am Main.
To the provider
Canoeing on the Franconian Saale
Tour tip: From the Roßmühle in Gräfendorf to Gemünden
When you are canoeing on the Franconian Saale, all seems right with the world. The willows lean into the water, pristine nature sprouts everywhere, the water is clear and every now and then you paddle past bays that invite you to take a break.
Distance: approx. 17 river kilometres
Canoe hire on the Franconian Saale
Of course, you can rent a canoe directly at the starting point of your tour. McKamp, southern Germany's largest rental company for canoes and kayaks, is only 15 minutes away from Hotel Imhof in Gräfendorf.
To the provider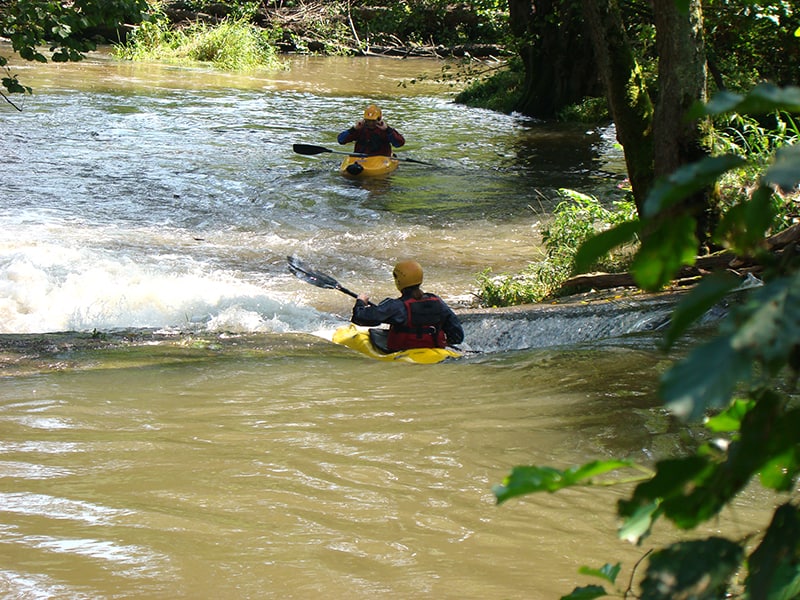 Tips for canoeing in Main-Spessart
→ Shoes with a good tread protect you from slipping in the canoe and stay on your feet if you fall into the water
→ A life jacket will keep you afloat
→ Without sunscreen you will quickly get sunburned
→ A cap, hat or wet towel on your head is also important, if you are on the water for a long time in summer
→ Take a first-aid kit with you so that you are prepared against minor injuries during your canoe trip
→ Take a dry change of clothes with you and store them together with your valuables in the waterproof garbage cans provided in the canoe.
→ For safety's sake, pack a rain jacket. The water in the Main-Spessart can change quickly.
Fancy an active holiday in the Spessart?
Take a look at our hotel offers: